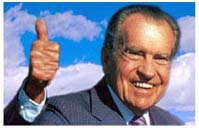 People I'd like to see as President:
Former California Gov. Pete Wilson--moderate republican. As Curly of the "Three Stooges" would say; "poy-fict"!
Retired Gen. and former Sec. of State Colin Powell--what a class guy. Probably too smart to take the job.
Former NYC Mayor Rudy Giulianni--talk about a guy who can get a job done---and do it without apology. He has my vote for Prez. in '08. If we as a nation cannot manage to get him into the White House, then there's reeeeeally something wrong with us. If he isn't elected, it'll be W's fault.
The John McCain Factor--let's see....he's more conservative than Al Gore and more liberal than George W. Bush. Hmmm. Do we want a President that most people will likely be happy with? What fun would that be? Plus, why elect a war hero when there are so many candidates floating around with perpetually clean fingernails.
---

People I would never want to see as President:
Note: As of this writing, (10/15/05), I am beginning to think that George W. Bush may go down as one of the worst, if not the worst President in the last 100 years. His incompetence, not to mention his arrogance, is alarming. I just hope he doesn't do so much damage in the next 3 years that he makes it impossible for Rudy Giulianni to get elected in 2008.
Howard Dean-- The Democrats really need a strong figure who's unafraid to be blunt and is fierce in battle. Unfortunately, the only one they've come up with is a far-left loon.
Hillary Clinton--I voted for her husband in '96, but would never vote for her. The last person we need in the White House is someone as polarizing as Mrs. Clinton.
Sarah Palin--It saddens me that this moron is given any serious consideration for a position in our government. The people that think she is a reasonable, or even viable candidate, are some of the nuttiest and misinformed among us. This is not an issue of political ideology, but rather sheer intelligence--or lack thereof.
John Edwards--This guy is as trustworthy as a snake oil salesman. Granted, politicians have to be able to convincingly say things they don't neccessarily believe, but I don't think we'll ever know what Edwards really thinks about anything.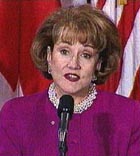 Mitt Romney--I didn't think much of him...until Palin came on the scene. In comparison, he seems like the second coming. Considering the financial challenges we have, Romney may be just what we need, if not as President, then certainly as an advisor.
Pats Buchanan or Robertson---take your pick.
I don't know what the hell to make of former Vice President Al Gore. I'm trying to not dismiss him immediately as a contender in my mind, but he's just so damn corny. I don't know if I'll be able to stand listening to speeches peppered with stupid jokes. The only way I think I'll vote for him is if he hires some writers away from the old "Dennis Miller Show".
I'm so sick of wimpy, hypocritical Democrats and arrogant, hypocritical Republicans.
---

People with no political credibility, who are fun to watch:
Al Sharpton--Without racial tensions, he'd be out of business. Something to think about.
Ann Coulter--She's fun to watch in the same way that we were entertained by the film "One Flew Over the Cuckoo's Nest". If she was a little less extreme, she'd be dangerous.
Ross Perot--Nitwit who wasted our time. He made two of my categories.

Any Celebrity who gets into politics--Cashing in politically on the likeability they developed while playing roles and saying someone else's words, is a pretty crappy way to thank the public for making them stars in the first place.
---
People who are just funny to watch:
James Carville--Obviously extremely biased, but always interesting.
One of the many quite capable of slicing and dicing Republican apologists like Sean Hannity. That of course would never be allowed on the Faux News Channel.
---
World's Smallest Political Quiz:
http://www.self-gov.org/quiz.html