A few interesting points about me:

In 1981 at age 17, I did a couple of stand up comedy routines at "The Improv" in Los Angeles. It was amateur night and I was 4 years too young to even be in the place. This was before everybody and their brother wanted to do standup. I met Jay Leno outside, heard him use the "f" word.

The first concert I ever went to was Luciano Pavarotti. He didn't bite off any bat heads or pee into the audience or anything like that.
Taylor Dayne and Dee Snider (Twisted Sister) graduated from my high school on Long Island. "Taylor" is short for Leslie Wonderman.
In 1992, 10 days after the L.A. riots, while standing on a street corner in Sacramento, a nice young black man pointed a .357 magnum at me from 2 feet away and demanded my money. Our hero, me, not only gave him the money but did NOT poop in my pants. He got 20 bucks, I got my life. Nice trade. I feel so cheap.
The first woman I ever had sex with was a Hawaiian. She was not a hooker.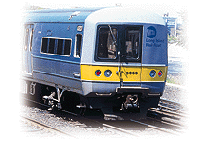 My hobby when I was 13 was riding the Long Island Rail Road.

I delivered the local PennySaver circular to finance this addiction.

If you've ever delivered the PennySaver, you know how much of a step up it would be to work at one of Kathie Lee Gifford's old sweat shops in Mexico---or whatever cesspool of a country they were in.

Worst job I ever had: putting away books in a library. When there was nothing else to do, you had to "read shelves" which meant making sure all of the books were in order. In reality, you'd sit on a stool and zone out for hours. You would have to move the stool every so often to make it look good. I was in the kid's section, and they took great pleasure in throwing the neatly shelved books all over the place. It was tremendous fun for all of us. And they paid me too! $2.20 an hour!

My fathers' aunt was one of NYC's first policewomen. (Several other cops are in the family history, but this was more unique)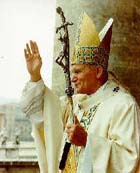 My wife's grandmother knew Pope John Paul II. Not a joke. How weird is that?
In my 13 years out west, I saw a cumulative snowfall amount of 1 inch. In my first winter in Buffalo, I saw 140 inches.